Words: Nathan Chadwick, David Lillywhite | Pictures: Matt Howell
The 2023 edition of London's Concours on Savile Row saw the event expand, extending around the corner and along to the renowned Royal Academy of Arts, allowing room for more cars as well as motorcycles this year. Other additions included extra craft demonstrations, a gala dinner and a new classic cars seminar.
There was also an increased focus on sustainability within tailoring and motoring – with the entire event carbon offset by Net-HERO, a number of EVs and several classics cars running on synthetic fuel, plus the use of sustainable materials and tailoring methods within the shops.
The famous road, closed to traffic for the two days of May 24-25, was laid with red carpet for the event and lined with a mix of modern and historic bespoke machinery, from the first Bentley to ever compete at Le Mans, 100 years ago, to the new Aston Martin Valkyrie. Alfa Romeo celebrated 100 years of the Quadrifoglio logo and brand, and Savile Row's strong connection with The Beatles was marked with the display of George Harrison's Mercedes-Benz 600 (courtesy of Mercedes-Benz Heritage and Henry Poole & Co) and Paul McCartney's Lamborghini 400GT, hosted by Gieves & Hawkes.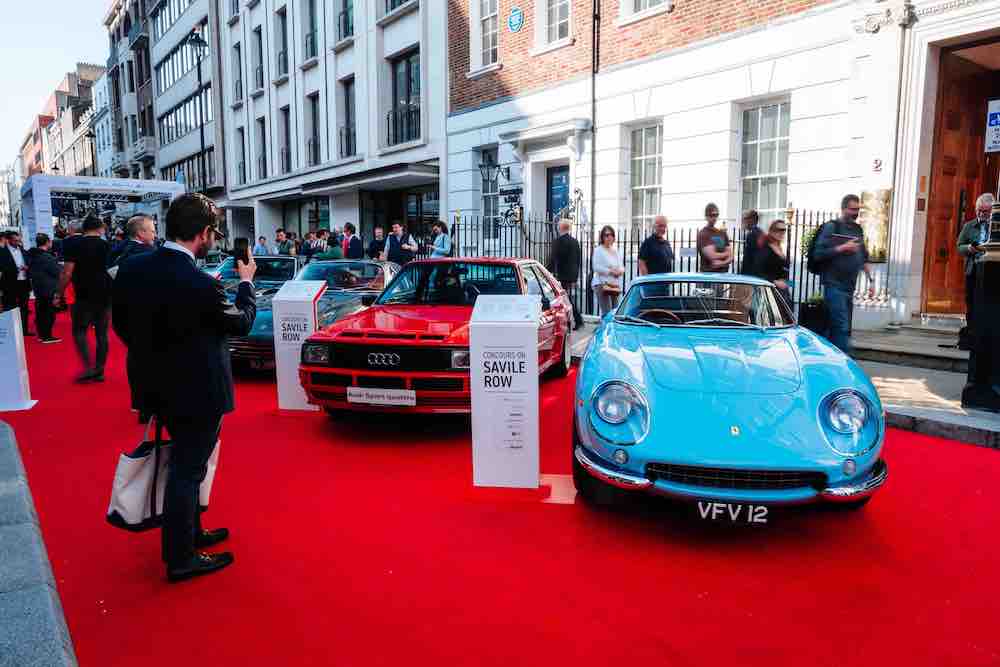 The cars and bikes were judged by the Westminster City Lions under the Hagerty Youth Judging Programme, who were also lucky enough to experience the Savile Row Bespoke Academy at Maurice Sexton during their time at the event. The Lions rated the Best of Show as the 1967 Ferrari 275GTB/4, with Peter Read's 1968 Lamborghini 400GT in second, the Mullin Automotive Museum's 1938 Delahaye 145 V12 Coupé in third and an honourable mention to Dylan Miles' 1991 Aston Martin V8 Vantage X-Pack.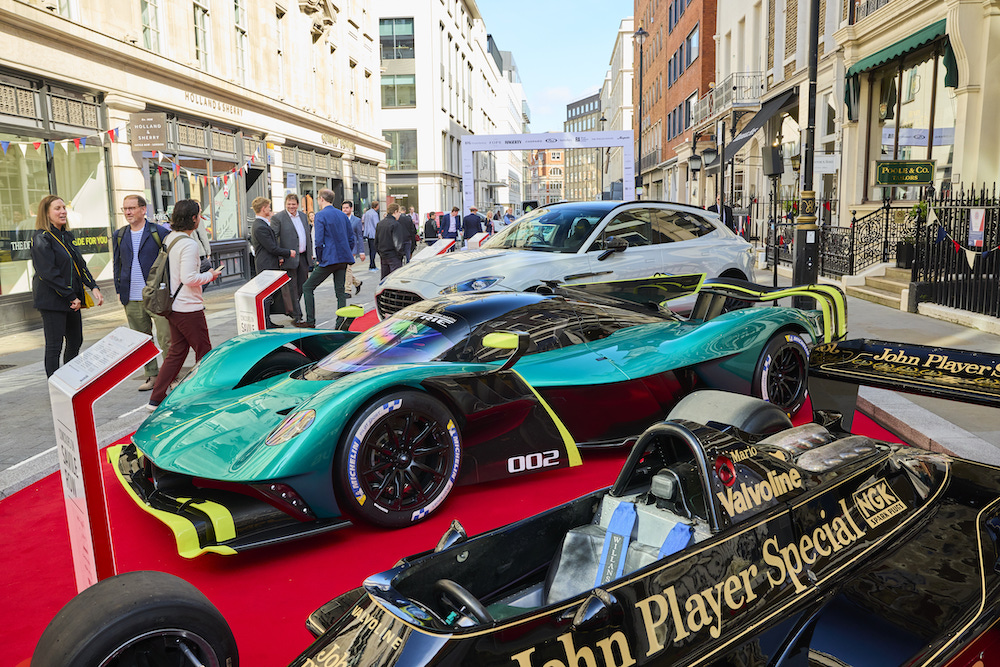 Visitors were also able to vote for their favourite, with the winning number of votes going to the 2023 Aston Martin Valkyrie AMR pro hypercar. In second place was the Mullin Museum's Delahaye again and in third was the BRM P15 Mk1 V16 Continuation – fittingly varied choices from an eclectic event.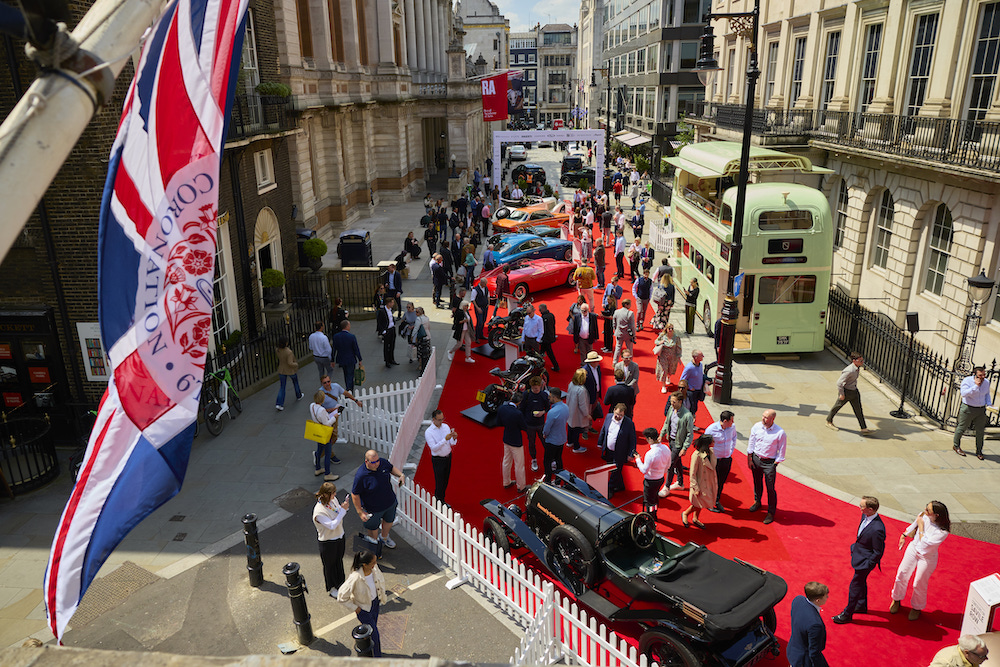 "It's been phenomenal," said Jeremy Hackett of tailor JP Hackett. "The people we have been getting through the door has been fantastic – the sort of people who like classic cars like good clothes, so it's a good fit. It's brought a lot of people who might never have thought about coming to Savile Row over to explore all the different shops, as well as enjoying the cars."
JP Hackett hosted talks on Aston Martin's history in bespoke automotive creations, and its Q programme for individualising a new Aston Martin. Much like a bespoke suit, Steve demonstrated that the relationship between Q and its customers mirrored that of a tailors; a collaborative process that brings a unique creation to life. Aston Martin brought along a Valkyrie AMR Pro and a DBX707 – one a track-only hypercar and the other a ultra-luxury, ultra-performance road car, but both bound by a historical connection to viewing Aston Martin owners not as mere customers, but as long-term friends of the company that respect handcrafted machines.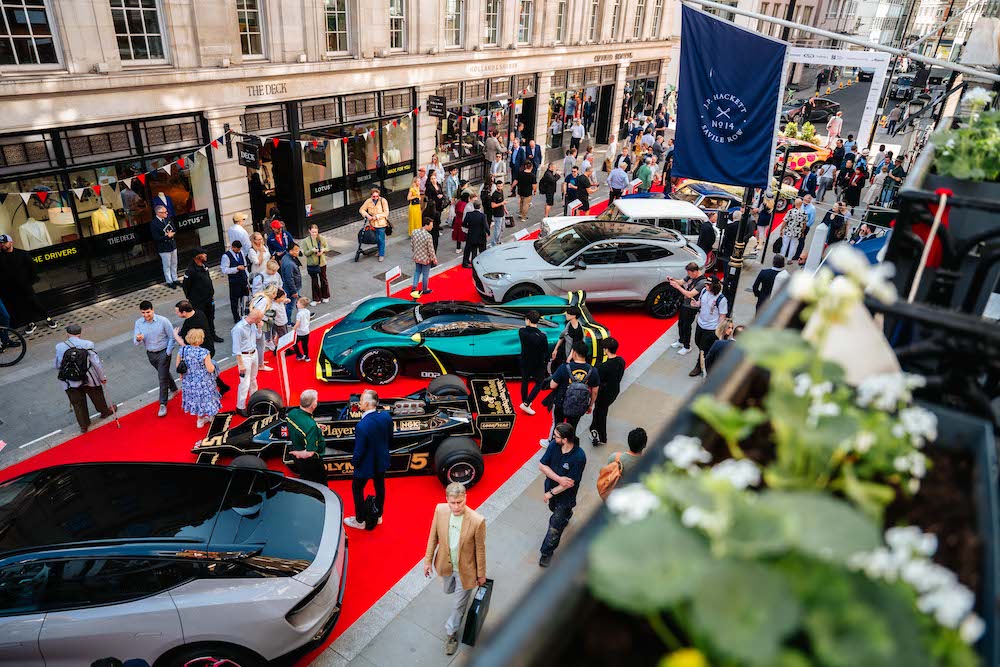 "It's so nice to see the streets so busy and buzzing in the sunshine, with everyone dressed up to the nines," said Daisy Knatchbull, founder of The Deck. "It really feels positive, happy, British and wonderful." The Deck – the first all-women's tailor with a storefront in Savile Row, partnered with Lotus for the event, was delighted to see more women come to the event. "I think so many people have been coming with partners or friends, it's certainly increased the number of walk-ins – yesterday there was a whole gang of women here, no one knowing each other but trying things on and comparing things."
She saw the relationship between manufacturers and tailoring as a good symbiosis between past and future; Lotus brought along a 79 Formula 1 car and the new all-electric Lotus Eletre. "The focus on sustainability and craftsmanship echoes what we have here, which is an incredible history – tailoring is an inherently sustainable business," she said. "But to see modernity here as well, the fusion between the two and the parallels between the two industries is something lovely."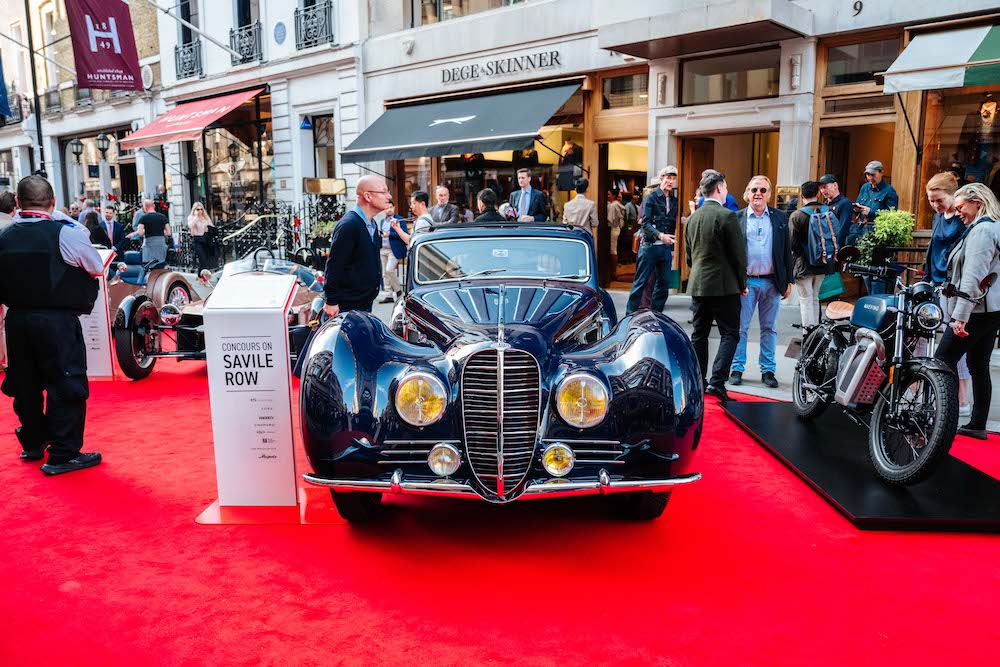 Stéphane Crémieux of the eponymous brand saw the link between manufacturers and tailoring in near-gastronomic terms. "The brands are putting in a lot of ingredients, it's like a great restaurant," he said. "[As tailors] we use beautiful ingredients that create an emotion, just like a beautiful car. I love the aesthetic of vintage cars, but I love the modern technology of new cars – personally I like the mix, and that's the link with our products because we're traditional in the way we choose the fabrications, and we try to modernise for different shapes, for comfort and aesthetics." Cremieux produced a short-run range of bespoke garments for the event, including handmade polo shirts with the firm's trademark collars.
Dominic Sebag-Montefiore, creative director of Edward Sexton, discussed collaborations with Ian Callum CBE of CALLUM. Speaking of the link between collector cars and tailoring, he said: "[Cars and clothing] are things of great beauty and quality that you experience in your daily life, unlike art in a gallery. Art and music have the power to transport us emotionally, and I think in the modern age when we're stuck in our phones, there's so much divisiveness in society and people are so stuck in logical, rational silos… poetry, art, music, dance, architecture, fashion, tailoring, cars – anything that's really beautiful, we really connect with them. The feeling of awe is important to us, fundamentally as humans – it drives us forward to create. Great design is about trying to connect people through a transcendent experience – and suits, like cars, can be truly transformational and make you feel special."
William Skinner of Dege & Skinner saw the event as an opportunity to open people's eyes to the two worlds of tailoring and cars "The people who are into cars might not necessarily have thought about coming to Savile Row – so it does act as an introduction," he said. "We partnered with the Morgan Motor Company because they're made in England, and everything to order, and they're all hand-made – those three criteria are exactly that we're about."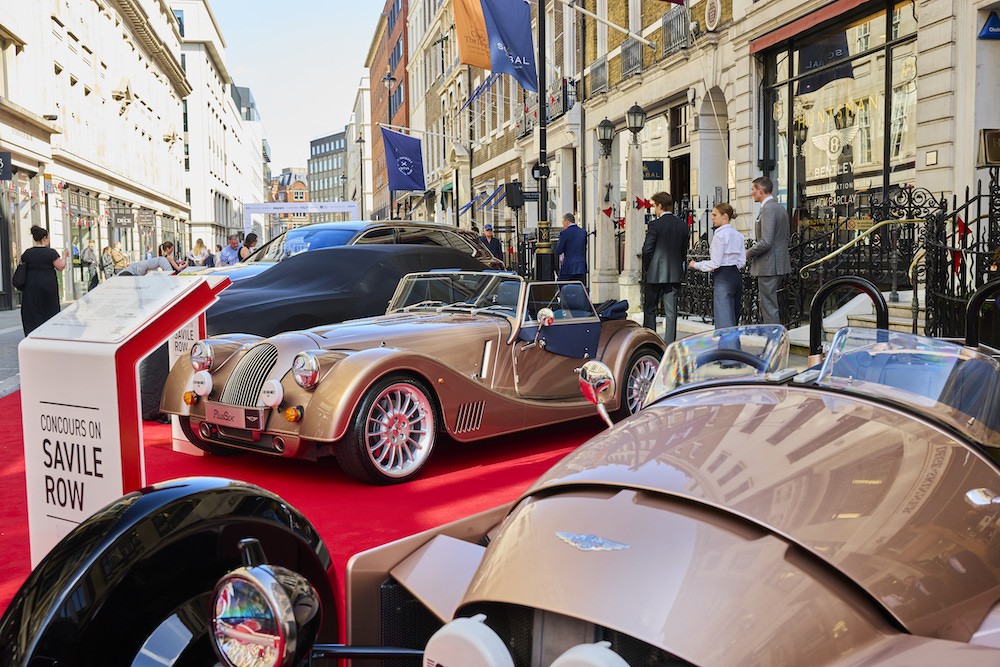 A big theme of the concours was sustainability, which led to Rav Matharu – founder and creative director of Clothsurgeon – teaming up with Everrati to produce a series of limited-number items based on the all-electric GT40, such as a leather jacket. "Whenever we do a partnership or collaboration, it has to make sense and be authentic to the brand, and Everrati and our brand values align," he said. "It takes a traditional classic vehicle and brings it into the contemporary world in the same way we approach our craftsmanship."
Rav is an avowed classic car lover, and also sees the link between a love for craftsmanship and beautiful things that applies to historic cars and tailoring. "There's a lot of nostalgia, and the approach in the 'slow making' of that vehicle, rather than something mass-produced, and I think that ties in very much with what the bespoke world does," he says. "It creates these pieces that stand the test of time – these cars are iconic and will always be relevant. There's also the craftsmanship angle – a car restoration is a labour of love, much like making a bespoke piece of clothing."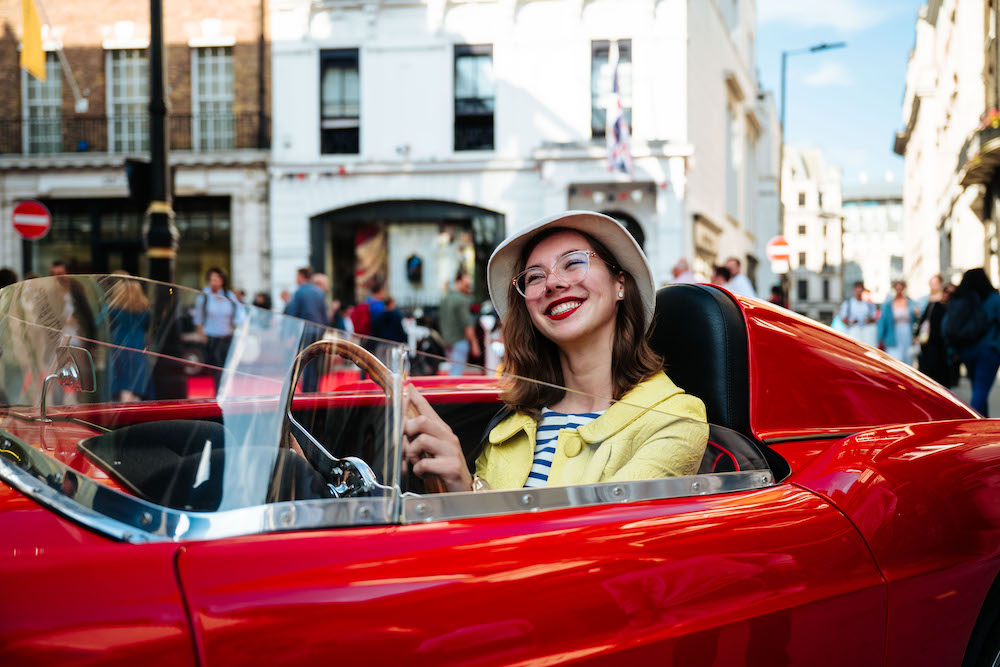 Seth Kennedy was among several artisans to provide demonstrate heritage crafts as part of the Association of Heritage Engineers' programme to highlight under-threat legacy skills. Hosted by Henry Poole & Co, Seth demonstrated the highly intricate engine turning and engraving skills he puts to use on vintage pocket watches, as well as special projects such as steering wheels and cufflinks. Highlighting just how rare such skills are, Seth said: "I did some research for a talk I did last year, and managed to trace back a line of training that's come to me from the mid-19th Century – you don't want to be the end of 170 years of lineage."
Christopher Boadle, co-founder of shoemaker Arthur Sleep, said the event had hugely developed of its inaugural year. "We've had people flying in from Australia, America and South America to be here," he said. "People find it really captivating to come in and experience not only the showcases, but real craft taking place." Arthur Sleep partnered with Lunaz, and produced bespoke items for the event, using part of the original headliner fabric and seat leather from the latter's all-electric 1961 Bentley S2 Continental.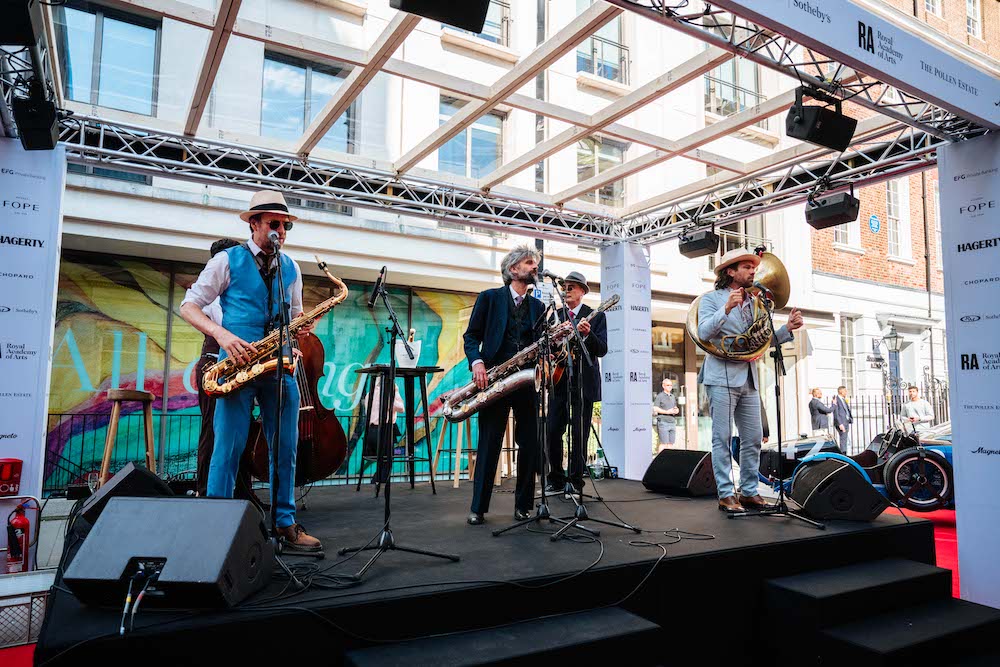 The event saw the first public display of The Electric Lady – a collaboration between famed rock and roll photographer Gered Mankowitz and Tudor Black Coachworks, based on the latter's all-electric Jaguar E-type. Gered formed the art piece using a photograph he took of Hendrix in 1967. The detailing of Jimi's jacket (a Savile Row piece dating from c.1850) forms the surrounding visuals of the car, with the rock star's distinctive portrait taking pride of place on the bonnet. "The response has been absolutely breathtaking," said Gered, who admitted to being excited but nervous before the car's unveiling. "When I see my work on the walls of a gallery, I can relate to it more directly because I've either made the print or overseen its creation – this car is something different entirely. It now has a new energy – it's not just a work of art, somehow it's been transformed, it's got an energy of its own."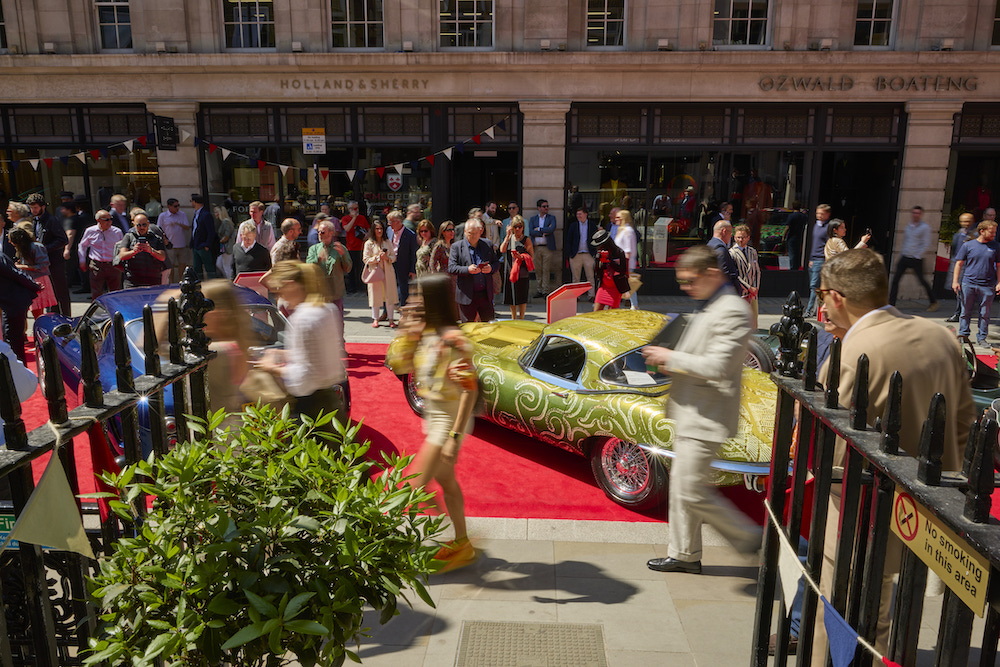 The Electric Lady was hosted by Norton & Sons, whose founder had a great fondness for racing cars, particularly with a Jaguar XK120. "The event's been a great success," said chief cutter Martin Nicholls. "It's been a really good chance to team up with interesting stories that have the connection with tailoring, and a great chance to reach out and allow people to experience not just us, but also Savile Row in general. It becomes a part of a shopping experience, a reconnaissance – we've had people say they came to the event last year, which is really encouraging."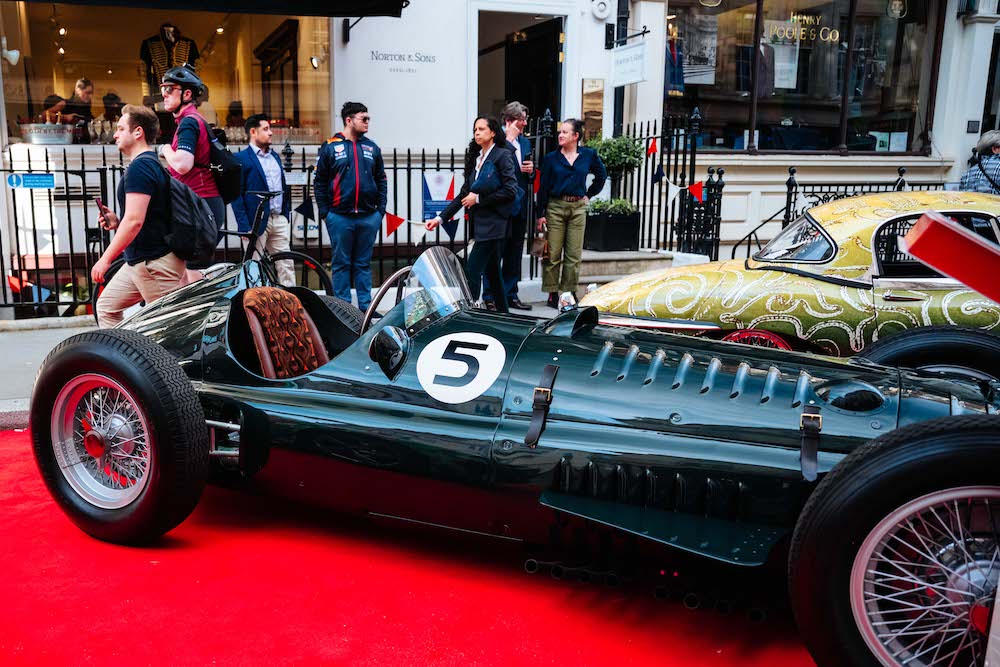 The Royal Academy of Arts provided the stage for an illuminating round-table discussion that posed the question 'Cars as Art – the investment level collector cars that transcend the car hobby to become rolling works of art'. Hosted by historian, broadcaster and author Simon Taylor, the panel included Clive Robertson, head of collector cars at Healys LLP, John Mayhead, Hagerty market expert, car designer Ian Callum CBE, Susan Spash, personal tax and inheritance specialist at Blick Rothenberg and Julian Radcliffe OBE, chairman Art Loss Register/Classic Car Register, as well as painter Humphrey Ocean.
Humphrey got the lively discussion off to an exciting by declaring that the difference between traditional art and cars is that "art is useless". The wide-ranging debate considered whether cars could truly be deemed works of art, plus the legal ramifications of provenance, inheritance and theft, as well as Continuation cars. John Mayhead UK head of valuations for Haggarty said: "It is beauty that makes cars valuable. Cars are not inherently art, art is narrative and beauty. But the narrative of the car being driven, of people trying to control natural forces like wind and ground resistance, and the story of how the car is developed allows cars to become art."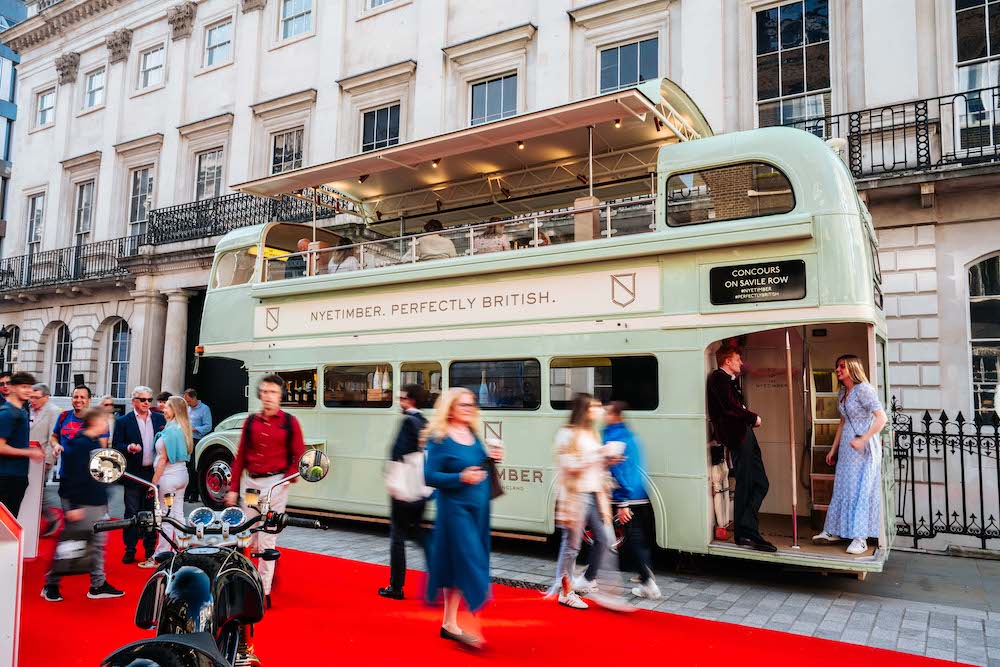 Thanks to Pollen Estate, owner of much of Savile Row, along with Westminster City Council, and sponsors and partners including Hagerty, Chopard, EFG private bank, RM Sotheby's, FOPE, Blick Rothenberg, Aranyani, Nyetimber English sparkling wine and Net-HERO, as well as the Association of Heritage Engineers for its craft demonstrations around the event.