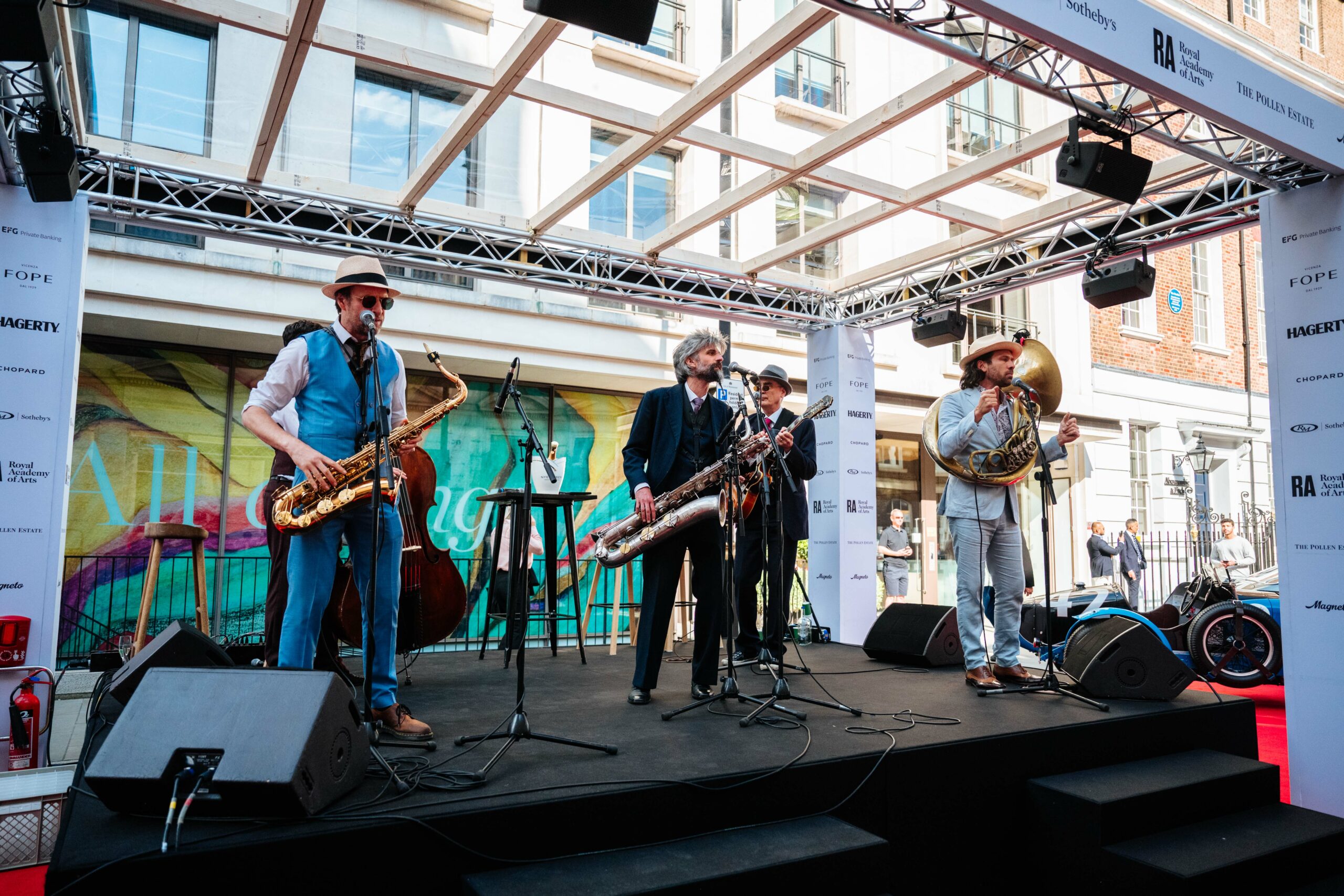 Our main stage was back for 2023 and better than ever. Concours on Savile Row held a multitude of live talks and performances over the two days. With The Swing Ninjas keeping a relaxed and sophisticated vibe in-between discussion The Savile Row stage had it all.
Our wonderful MC's Richard Charlesworth, Simon Taylor and Benedict Browne welcomed a range of guests from Ex Formula one driver Jacky Ickx to Tiktok sensation Sam Dracott to this year Concours on Savile Row stage.
Some of the live talks on this years main stage include:
Jacky Ickx: Belgian former racing driver who won the 24 Hours of Le Man six times and achieved eight wins and 25 podium finishes in Formula One. Talked about his career, relationships with other drivers, Le Mans and off-road rallying
Drew Pritchard: Author, TV star, and architectural antique dealer Drew Pritchard joined the Concours on Savile Row stage to talk about his new book, selling off his private car collection and his history as a Goodwood racer.
A discussion on design with Ian Callum and Dominic Sebag-Montefiore: On their meaningful partnership they have developed through The Concours on Savile Row.cDiscussed the similarities in the culture of their two companies and a number of collaborations they are working on together long-term.
David Gandy: one of the most recognisable faces in fashion and was in discussion with out two MC's Benedict and Richard to talk about his Porsche, the importance of Savile Row and his work with Bennett and Winch.
Sam Dracott: The most watched Tiktoker in the UK in 2022, Sam Dracott is a Farrier of 13 years who shares his satisfying day-to-day work on TikTok, Instagram and YouTube. Sam discussed his genuine passion that soared on social media.
Jeremy Hackett: In discussion with Benedict about his American father who was a hobby racing driver and the cars he owned, celebrating 40 years of Hackett, the new brand representative Jenson Button and his Sussex Spaniel Harry who has just become a brand ambassador for Hackett.
Nick Hewer: who gained widespread attention for his part in advising Lord Sugar on the apprentice. Nick discussed the Mongol rally a 10,000 mile adventure that involved driving in a sub 1000cc car over five mountain ranges and across three deserts with Ulaanbaata. Sierra Leone 2012 the long distance road trip to deliver some valuable woodworking equipment to a young carpenter who had been orphaned during the Civil War in order that he could set up his own business, his love for travel and life since retirement.
Gered Mankowitz and Richard Williams: talking about the Electric Lady they showcased at this years Concours on Savile Row. Touching on the brief history of the shoot with Jimi in 1967 and how the details of his vintage military jacket became the background visuals for the art car. The Connection between the car being an electric E type – "Electric Lady" and the history of Jimi founding Electric Lady Studios in NY in 1968.
James Barclay: team director for Jaguar's Formula E programme in November 2015 and he has been responsible for managing the exciting return to motorsport in the ABB FIA Formula E World Championship for the British brand. Expressed his reasons for choosing Formula E elaborating on the journey from joining JLR from Bentley and what happened next to bring Jaguar back into world championship motorsport.
Photos below from Concours on Savile Row 2023.