Words: Nathan Chadwick | Photos: Matt Howell
"I love the aesthetic of vintage cars, and I love the modern technology of new cars – I like the mix," says Stéphane Crémieux, CEO of the brand that bears his name. "It's a good link with our products, because we're traditional in the way we choose the fabrics, but we try to modernise for shapes."
Crémieux is still owned by the founding family, and holds true to the ideals when the brand first broke onto the scene in 1976. French-born Daniel Crémieux had studied English in London, and became fascinated by the emerging 'preppy' look of students. After a stint in New York, he returned to St Tropez to create a modern, French twist on this style.
For Concours on Savile Row 2023, Stéphane created a number of special-edition items to mark the event, such as a handmade polo shirt limited to just 100 items. "This is a great event – customised for those who love cars, as I do. If you can dedicate two days, you can go to your hotel, come to see us, see the cars, have great food and enjoy the neighbourhood," he says. "It's a true, authentic luxury event."
Stéphane sees a direct link between collector cars and hand-crafted garments. "It's like a restaurant – the big, beautiful brands are putting a lot of ingredients into their cars, and we're doing the same with our clothing – we are now moving most of our items to using organic cotton, cashmere or natural wool," he says. "We use a lot of beautiful ingredients that create an emotion, just like a beautiful car."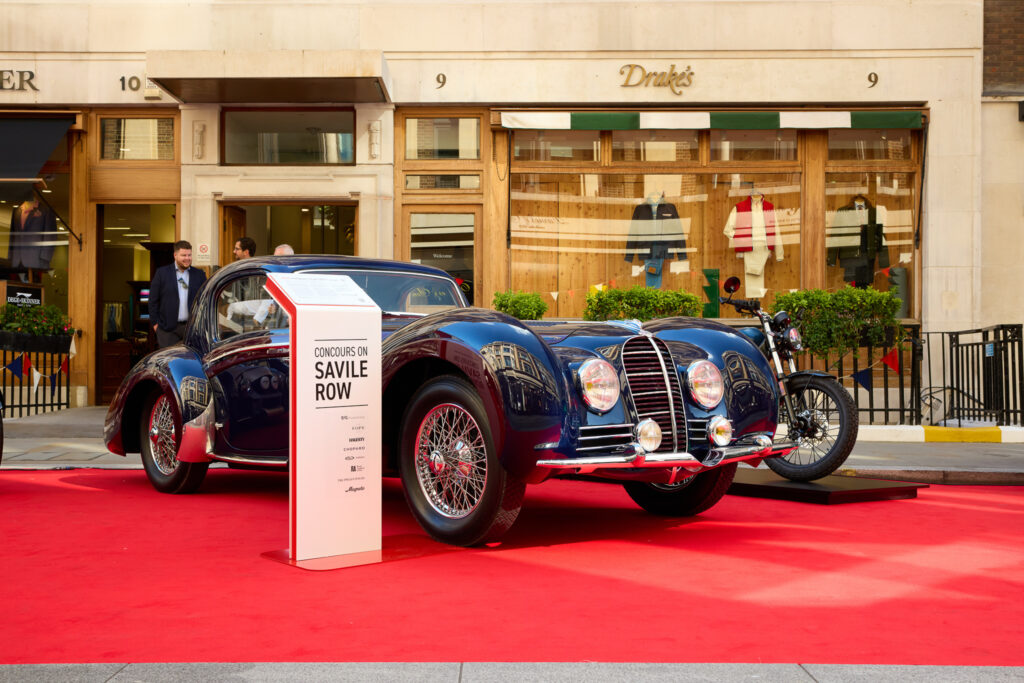 For this year's event Crémieux partnered with the Mullin Collection, which provided a 1938 Delahaye Type 145 V12 Coupé. The car features one of Stéphane's favourite colours, and thus provided suitable inspiration. "If I could work on any automotive project, it would have to be a very beautiful shape in navy – a deep navy that is not now available from every single car brand," he says.
Although he is yet to own a vintage car, it's not without trying. "I'd love to have one; my wife and I have been looking at Fiats for one of our houses 150 times," he laughs. "But we have lots of vintage things – and that's what makes Concours on Savile Row so beautiful, the two worlds of vintage and modern mixed today. Today's consumer is interested in art, authenticity and craftsmanship – this is what matters to them."
To underline that theme, he points to his own cars – an electric Mini and a Range Rover V8. "They are completely different animals, and I love both," he says. "You can charge in Paris well, but in the US you can enjoy big engines. I understand the need for electrical energy, and we are in a phase of life where we have to be conscious, but when you see old cars with big engines, hear the noises and see the aesthetics, it's magic, it's a piece of art. I like both worlds."

Looking to the future, Stéphane sees fashion becoming more bespoke-luxury focused. "That's great, because it's what we do – we're definitely not a big brand," he says. "It's all about fabrics, fittings and quality – again, the ingredients." Warming to the comparison with the food industry, he believes the individual touch with regards to customers will also come to define the luxury experience. "In the US and the UK, the word 'hospitality' is associated with restaurants and hotels, it's an industry. In France, it means welcoming people, and I think the little differences we're doing at our locations, including Savile Row, is to make sure people are welcomed.
"It's very important because people want attention – we compete with a lot of great online businesses, but we have to make a difference in how we greet and meet people, even if they don't buy – it's not like a business, it's just hospitality."