Words: Nathan Chadwick | Photos: Jayson Fong/Matt Howell
"I think the sort of people who like classic cars, like good clothes – so it's a good fit," says Jeremy Hackett, CEO of JP Hackett, at the recent Concours on Savile Row. I am speaking with him during a rare quiet moment, because the tailoring house is busy with talks, a drinks reception and live tailoring demonstrations.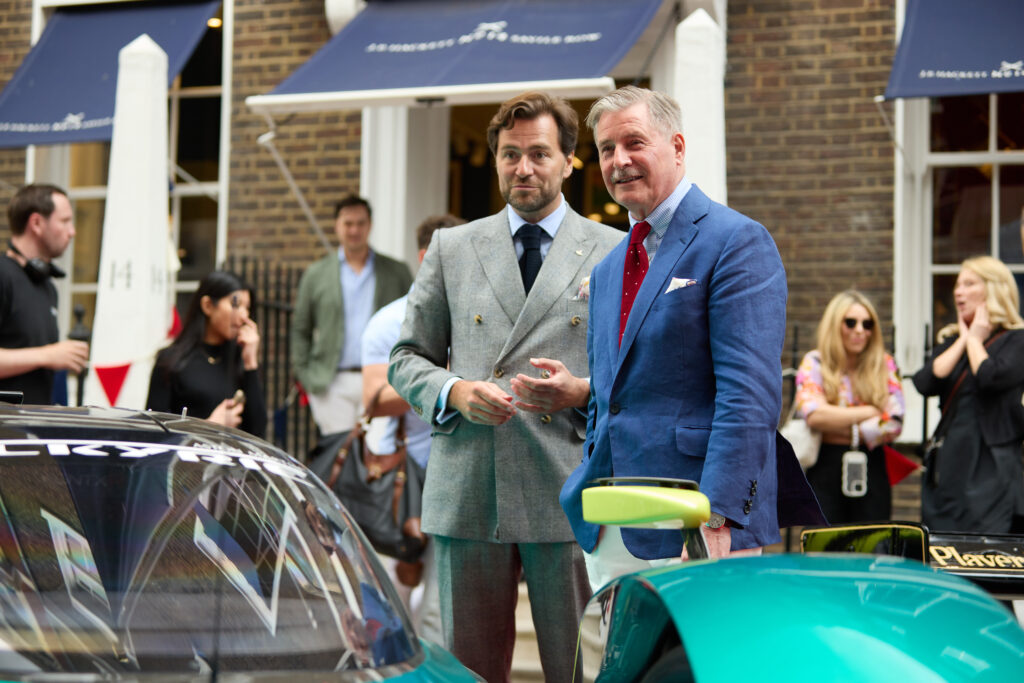 Hackett is a long-term partner of Aston Martin, which brought along a DBX707 and a Valkyrie AMR Pro. It's a partnership that's lasted for around 15 years, but it came about by chance.
"I was in one of our shops, and David Richards, the head of Prodrive [who ran Aston Martin's racing programme] was trying on some trousers; I didn't know who he was, but I went over to help," Jeremy recalls. "We started chatting and he introduced himself, and he said maybe we ought to do something together."
Jeremy didn't hesitate, and jumped at the chance. "That was the beginning of a really long relationship, and it's grown every year – the bonus is that Aston Martin often lends me a car for the weekend," he chuckles.
The partnership has led to some interesting collaborations. "Aston Martin asked me to work on a Rapide; I realised that the brand had a Royal appointment to the Prince of Wales (now King Charles III) at the time, so I decided to do the whole interior in a Prince of Wales check," Jeremy recalls. "I knew he was very keen about wool, so we used a tweed from Fox Brothers, and over the check was a pale blue; the exterior paint was pale blue, too."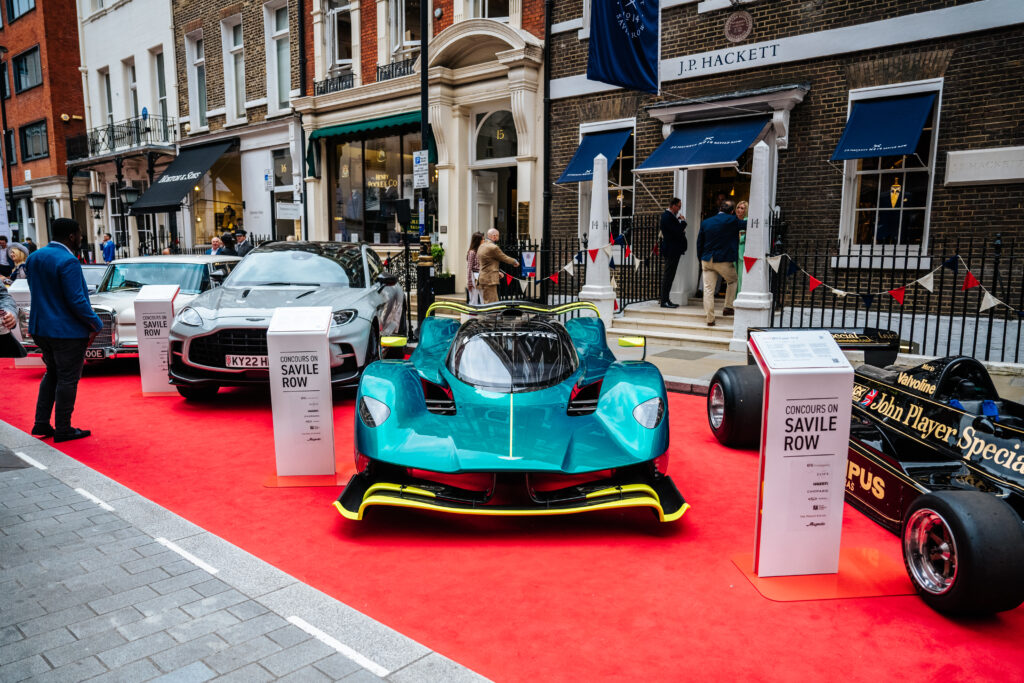 Hackett also made luggage for the boot, plus blankets and other items, but the key part paid tribute to the then Prince's 'make do and mend' philosophy. "I knew the Prince, now King, was fond of patching up his clothes, which is something I'm also a great advocate of, so we put a little patch inside the door as a nod to him. The whole project was great fun."
Although the firm that bears Hackett's name has an allegiance to Aston Martin, Jeremy's car of choice from this year's concours came from another stalwart British marque." I do like Jenson Button's Jaguar C-type – it was the first car I clocked," he admits. "My father used to race D-types and owned an XK120 and an E-type, so I do have a fondness for Jaguars."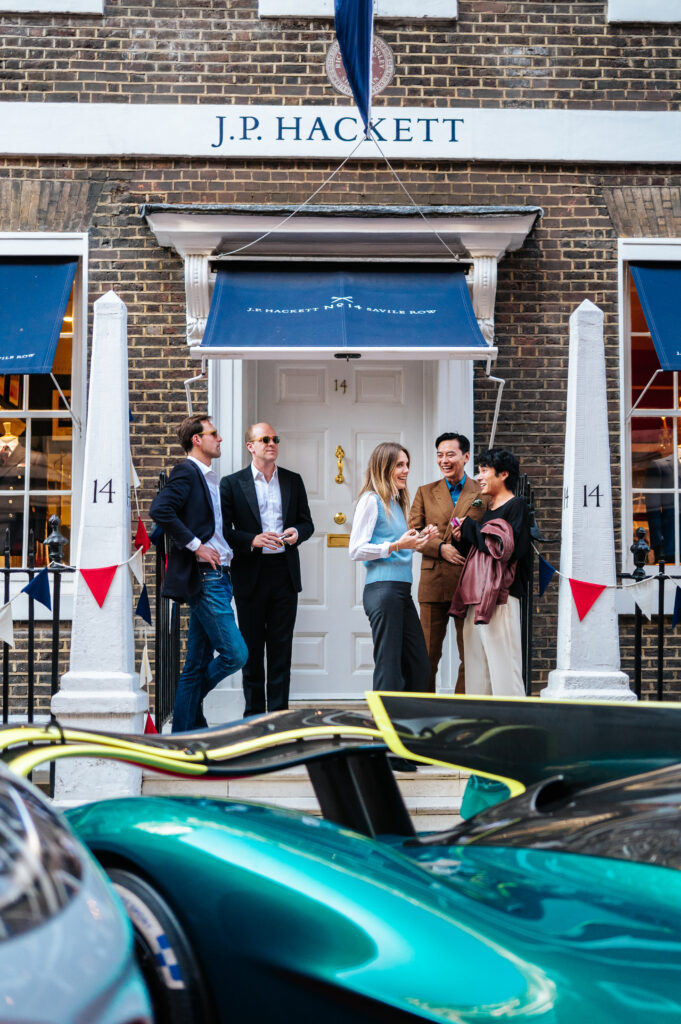 As with the classic car world, the tailoring business has faced many challenges – and some wonder what the future holds. "When you're in a sort of 'classic' business, you don't have trends so much, more decades where things slightly evolve; the shoulder gets a little bit lighter, the cloth becomes lighter – just little tweaks over the decade. It's only when you look back ten years and think, my God, we really have changed," Jeremy says. "We're not about seasonal changes, it's not fashion – it's all about style, fit, quality and craftsmanship. That's what we do here."
That's not to say Jeremy hasn't had some eyebrow-raising requests over the years. "You do get people who come in and buy quite extraordinary outfits – which I'm a bit guilty of myself sometimes," he chuckles. "We often have people come in with something quite outrageous in mind, and then change their mind to a navy-blue suit. However, we see all sorts of people in here – we just never know who's going to walk through the door and what they're going to want."
A big part of what makes the Savile Row experience so special is the personal touch, Jeremy adds. "The whole thing about bespoke is that it's so personal – you are well looked after by the cutter and the staff here, and it's the opportunity to have something truly for you," he says. "It's really personal and it fits you properly – once you have bespoke, you don't go back; why compromise?"
Jeremy is well aware such things can be viewed as expensive, but he believes it's worth it. "Once you've put on a bespoke suit or jacket, you just feel so comfortable in it," he says. "It will fit in all the right places, and people will say, 'oh, that looks so good on you', but they won't be quite sure why, but they know it looks good. It will also wear properly, because it fits properly."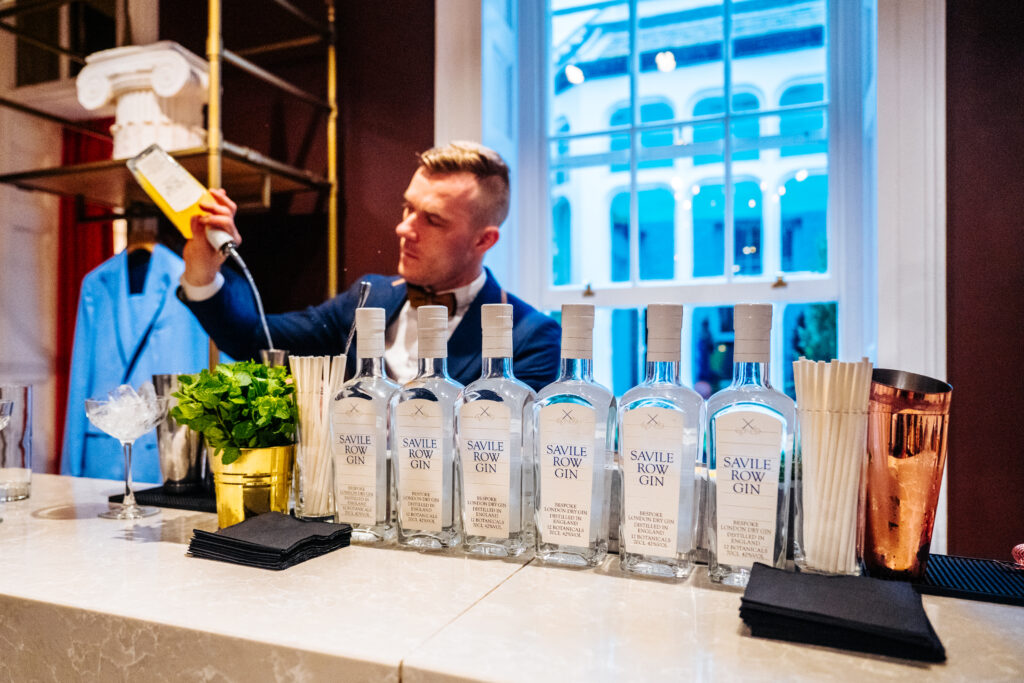 Jeremy has been in the business since the age of 16. "I had a Saturday job in a tailor's shop, and my father said, 'if you don't pull your socks up you're going to end up working in the shop'. Fortunately that's what happened," he chuckles, although his desire for something bespoke goes back even further.
"I was seven years old, and I was going to my first Holy Communion. My parents took me to the school outfitters in Bristol," he recalls. They wanted me to have this ghastly thick, solid, rough, grey flannel suit, but I spotted this really nice grey tweed, which was a good compromise. They let me have that – and when the tailor was measuring me up, I notice he had a ticket pocket and I asked if I could have one, too – I was a precocious child."
Jeremy is keen on bringing youngsters into the tailoring world, and currently has five apprentices working alongside his head cutter.
As for Concours on Savile Row, Jeremy's a big fan of the initiative. "It's bringing people to Savile Row who might not have thought about coming, and now they're exploring all the different shops, and we have all these wonderful classic cars," he says. "I can't think of anything better to have as an event along this road – it just fits so well."
For more on JP Hackett, click here.