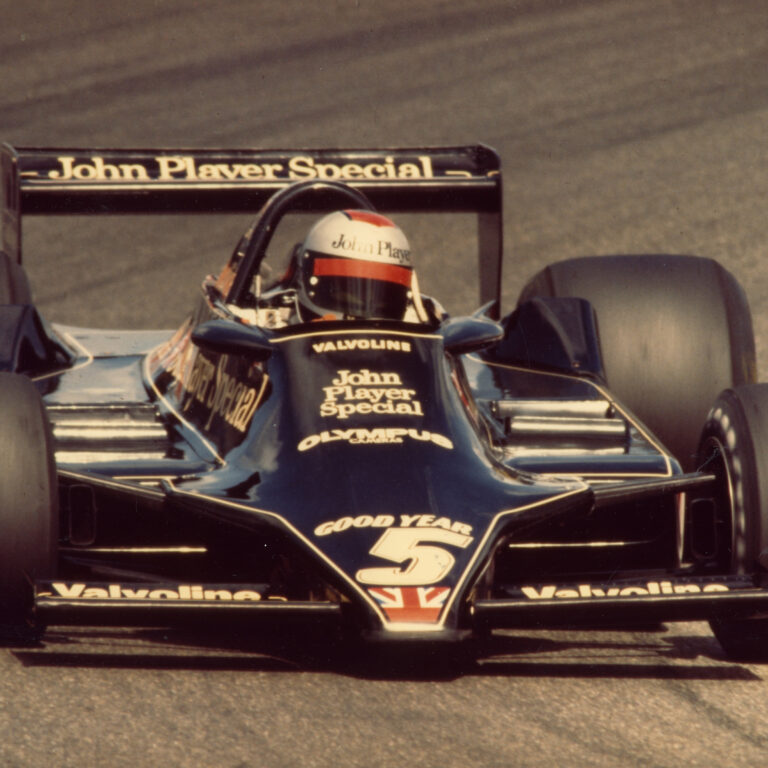 1979 JPS Lotus 79/3 
Owner: Lotus Hosted by: The Deck
The Lotus 79 was one of the first Formula 1 cars to use ground effects, following on from the pioneering developments on the Lotus 78.
Changes included refinements to the underside, such as venturi tunnels that allowed the low-pressure area to be evenly spaced down the length of the car. To aid this, the rear bodywork and suspension were designed in a way that would allow the air to exit the car in a cleaner fashion, thus meaning a smaller rear wing could be fitted. This would, in turn, mean less drag. 
Its 480bhp came from a Ford Cosworth DFV engine, and the car was constructed from sheet-aluminium honeycomb. 
Chassis 79/3, otherwise known as JPS21, was the most successful of the five Lotus 79s built. Mario Andretti took three victories – on its debut in the Spanish Grand Prix, and in France and Germany later that year, helping to bag the Driver's Championship for the American. 
The following year, after the new Lotus 80 failed to live up to the pre-season hopes, the 79/3 was pressed back into service by Andretti and Carlos Reutemann.
Power: 480bhp Top speed: N/A 0-60mph: N/A
---
---
---