Words: Nathan Chadwick | Photos: BRM/Sam Chick
British Racing Motors (BRM) was Britain's first racing team, and the P15 Mk1 V16 was thus Britain's first Formula 1 car. Conceived as a response to the pre-war dominance of the Germans, French and Italians in motor racing, the car that would be seen as the 'ambassador for Britain' was sired in the small town of Bourne in Lincolnshire. Now BRM is back, building three new Continuation V16s – one of which you will be able to see at Concours on Savile Row.
At the heart of the car is the mighty 1.5-litre 600bhp V16 engine, augmented by a Rolls-Royce two-stage centrifugal supercharger (scaled down from the one used in the Spitfire Merlin engine). It revs to 12,000rpm, creating an unmistakable sound that truly stirs the soul. The car was a groundbreaker in many other ways, too – it was the first Grand Prix car to use disc brakes, and it has a unique air-strut suspension set-up taken from the aviation industry.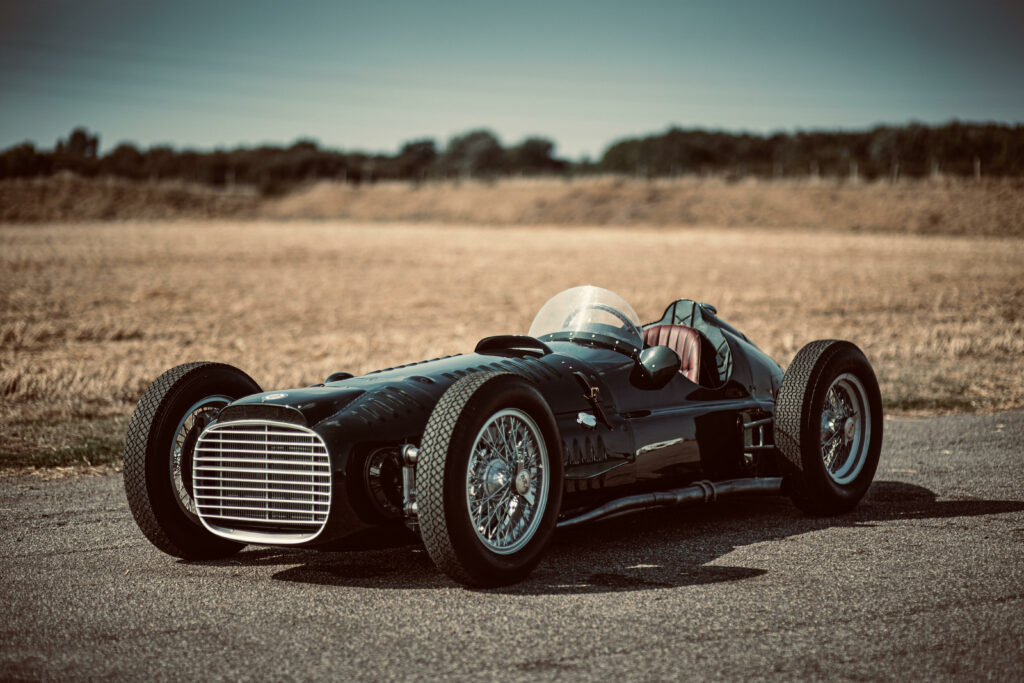 The new cars have been five years in the planning, in a project incorporating four members of BRM founder Sir Alfred Owen's family. The germination of the project began when the BRM team discovered evidence that there was going to be a total of six Mk1 P15s built, but due to a change in F1 technical regulations, just three were actually made.
In 2019, the BRM team and the Owen family thought the best way to celebrate the marque's 70th anniversary was to build the remaining three chassis, creating a new V16 for the first time for 70 years. All three chassis would be made by historic race engineer Hall & Hall, using many of the original 1940s/1950s drawings and built to FIA specifications and HTP Certification. Two cars have already been spoken for – one by John Owen, the son of BRM's original owner, Sir Alfred Owen. This leaves just one chassis available for a purchaser looking to join a very exclusive club. Could it be you?
BRM has teamed up with tailor Ozwald Boateng for Concours on Savile Row. Ozwald Boateng has had a transformational impact on menswear fashion for almost three decades, with a design aesthetic rooted in Savile Row traditions but defined by international style, detail, and artistry. His instinctive use of colour, cut and fabric fuses traditional classic British tailoring with a high end modern design focus on the refinement of a man's silhouette, this has brought tailoring to a whole new generation of men.
See more at www.britishracingmotors.co.uk. For more on Ozwald Boateng, visit www.ozwaldboateng.co.uk